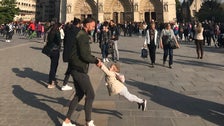 The search for a man and a little girl featured in a viral photo taken in front of Notre Dame Cathedral is over.
Brooke Windsor of Michigan announced on Twitter Thursday that the father and child she captured having a sweet moment in front of the historical monument just an hour before it caught fire Monday have come forward.
The heartwarming photo, which features the man swinging the child up in the air in front of the iconic cathedral, led to a viral search that finally reached the man in the image.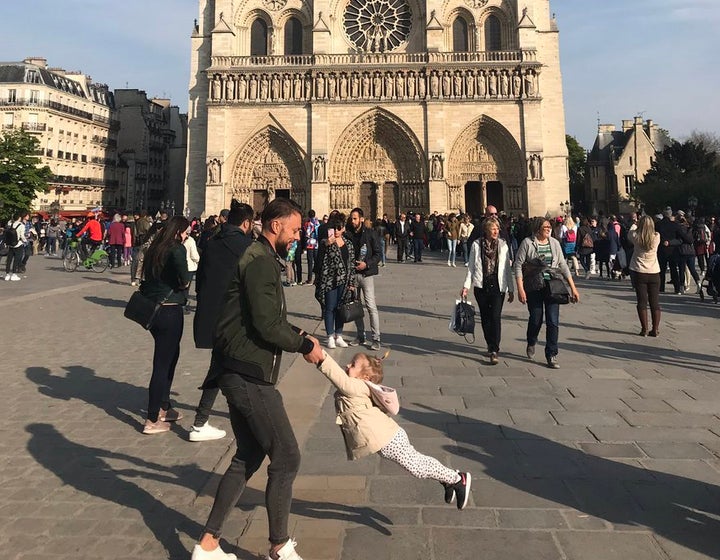 Windsor expressed in her original post that she regretted not sharing the memory with the darling duo.
Confirming she had identified the man, Windsor wrote Thursday that he wished to remain anonymous, but sent her a heartfelt message:
"Thanks again for that beautiful photo, we will find a special place for it."
In her original post, Windsor said she captured the moment between the two at 5:57 p.m. local time. She noted at the time that she was not certain how the two were related, and presumed they were father and daughter. She also said she was hopeful that the post would eventually get back to them.
Windsor explained that she and her friends walked to the Louvre after snapping the photo. Her friend later noticed smoke coming from Notre Dame.
"We watched in shock and heartbreak with the rest of Paris," Windsor told the BBC on Tuesday.
On Monday, around 7 p.m. local time, firefighters responded to a massive fire at the cathedral. The flames spread quickly, causing Notre Dame's spire to collapse. There were injuries, but no deaths reported from the fire.
Parisian authorities said it took nearly 400 firefighters more than nine hours to put out the blaze. Early on, authorities feared the cathedral could be destroyed, but city officials confirmed around 11 p.m. local time that the main structure was "saved and preserved."
This story has been updated to note that Windsor located the man she took a photo of.