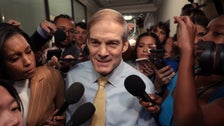 WASHINGTON ― Rep. Jim Jordan (R-Ohio) has won support from some of his colleagues who were skeptical of his bid for the speaker's gavel, in a boost ahead of a possible vote in the House this week.
Rep. Mike Rogers (R-Ala.), the influential chairman of the House Armed Services Committee, on Monday announced he is backing the Ohio Republican after previously expressing serious reservations.
Rogers cited "thoughtful" conversations with Jordan about their shared view on passing defense funding and other "appropriations to fund our government's vital functions."
"Since I was first elected to the House, I have always been a team player and supported what the majority of the Republican Conference agrees to," Rogers wrote on X, previously known as Twitter.
Rep. Ken Calvert (R-Calif.), another defense hawk, followed suit shortly after. And Rep. Ann Wagner (R-Mo.), who last week told reporters she was a "hell no" on Jordan for speaker and would "absolutely not" support him, flipped and endorsed him as well.
The quick succession of announcements by GOP lawmakers coalescing around Jordan is a surprise given reports over the weekend that some appropriators were exploring ways to deny Jordan support for the speakership due to his history of pushing government shutdowns.
Other skeptical Republicans, however, have complained about pressure tactics from Jordan's allies. Representatives from Fox News host Sean Hannity's show are reportedly emailing GOP holdouts and urging them to back Jordan's bid, according to Axios.
A majority of Republicans voted to nominate Jordan as the party's speaker-designate in an internal election on Friday, but only 155 out of 221 House Republicans voted for him, far short of the 217 he would need to become speaker in a public vote on the House floor.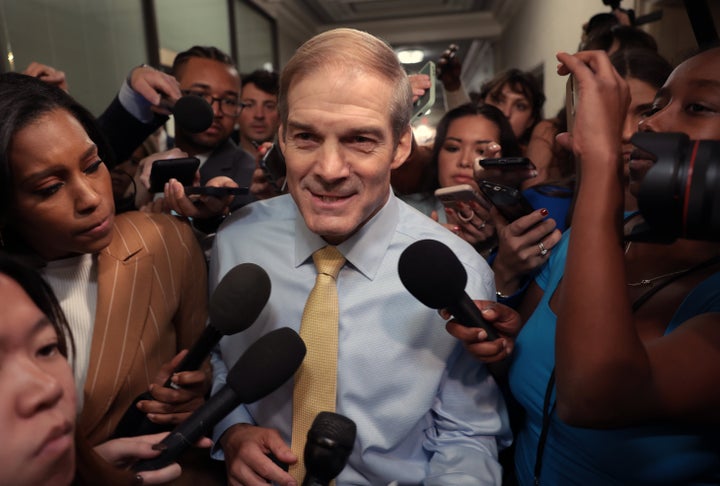 Jordan is pushing for a floor vote as soon as Tuesday to put the remaining opposition on record and pressure them into folding. Last week, when it looked like Rep. Steve Scalise (R-La.) would beat him in the House GOP's first internal speaker election, Jordan supported changing party rules to require speaker candidates to have near-unanimous support among Republicans before a public vote.
The internal Republican votes have used secret ballots. A public vote would flush out Jordan's opponents, making it easy for Hannity and others to target them for criticism.
"It's not about pressuring anybody," Jordan said Monday. "It's just about we've got to have a speaker."
Republicans have been complaining about Jordan's scheming since last week. After he lost to Scalise by a vote of 113 to 99 on Wednesday, Scalise supporters came out of the room complaining that Jordan had not immediately endorsed his victorious colleague.
After Scalise was ultimately unable to win more votes and withdrew from the speaker race a day later, some of his supporters thought Jordan had sabotaged his candidacy through underhanded means, even though Jordan had publicly said he backed Scalise.
"I heard him say that he supports Scalise, so I take him for his word, because he's never lied to me," Rep. Mario Diaz-Balart (R-Fla.) told reporters on Friday.
Diaz-Balart was saying, in a passive-aggressive way, that Jordan had not actually supported Scalise. Instead of questioning Jordan's honesty, Diaz-Balart questioned his effectiveness as a leader.
"It begs the question: If you can get your closest supporters, associates, friends to support you in a pretty simple thing," Diaz-Balart said, "how can you get anybody to support you?"
On Monday, Rep. Don Bacon (R-Neb.), another Jordan skeptic, called out a "pressure campaign" by Jordan's allies, highlighting a social media post that claimed Bacon wanted to install Democratic Rep. Hakeem Jeffries (D-N.Y.) as speaker.
"Don't fall for social media spin and pressure campaign to elect a certain Republican," Bacon wrote.
Another Republican, Rep. Carlos Gimenez (R-Fla.), indicated Monday he would vote for Rep. Kevin McCarthy (R-Calif.) on the House floor, saying he was still mad about McCarthy's ouster from the speaker's office earlier this month.
"I will not partake in this despicable coup," Gimenez wrote. "Speaker McCarthy should have never been removed to begin with."